Hörmann Doors
Georgian panelled, Galvanised Steel, White Powder coated and preframed in the factory to ensure proper operation time after time. All Lidget Compton Deluxe Range Garages come standard with the Hörmann Georgian Door.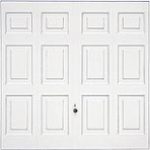 Because our garage doors are preframed, and made by Europes largest manufacturer, Hörmann, you can be sure that they are reliable, and the range offered means that you will be able to find something that you like.
For additional security, 4 point locking on all Hörmann Georgian garage doors on Deluxe Range.